The protocols of managing residential building occupancy continue to evolve. For property managers, concerns range from tenant communication to move-in logistics. And then there are move-outs, which are perhaps the largest concern of all. Today's tenants expect simple move-outs, and they aren't afraid to talk about their experiences on social media, Yelp or Google. When it comes to access control for apartment complexes, how can property managers stay on track — especially in today's highly mobile culture of frequently moving renters?
Manage Apartment Building Access from Anywhere
We have a solution. With Access Brivo Onair, property managers can remotely control access to their buildings from anywhere. If your management office is in Phoenix but the property is in Paradise Valley or Mesa, it's easy to activate and deactivate tenant credentials from your location, with no driving required.
Access Brivo Onair saves managers time and money by eliminating trips to each property, and it simplifies tenant experience so your property remains in good standing with the most vocal tenants. At Accel Communications, we help your management onboard and operate the system; our goal is to ensure you get the most mileage for your access control investment.
Your Tenant Move-Out Problems Solved
This Access Brivo Onair system is ideal for property managers who need an access solution when tenants:
Move out on short notice.
Fail to give any notice.
Forget to leave their access credentials.
Misplace their access credentials.
Authorized administrators at your property management company can access the system anytime, from any device with an internet connection: computer, tablet or smartphone. There's no more driving back and forth to different facilities, and the security concerns of modern building occupancy are no longer an issue.
The apartment turnover season runs from May through September, according to the experts at Rent.com. If your properties have had tenants moving out in droves throughout the summer, make September the month you simplify your access protocols and reduce the concerns of managing building occupancy. We can help; call Accel Communications for more information on access control for apartment complexes.
ABOUT Accel Communications, Inc.
Accel Communications has operated in the Greater Arizona area since 1990 as a full-service security alarm company that sells, installs, monitors, and services fire and security systems. They are the leader in Honeywell Fire, Brivo Web-Based Access Control, Eagle Eye and Flexwatch CCTV camera systems, and DMP Security.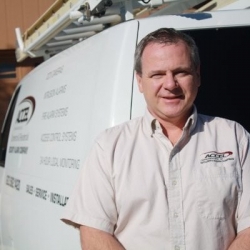 Latest posts by Evan Gavrilles
(see all)