You may have a security strategy for your business, but is it achieving everything you need it to? Here are some video surveillance features to look for that can quickly help you reach a more robust security climate at your business.
Broadened Accessibility
Depending on the size of your business and staff, you may be interested in having multiple administrators for your video surveillance system. You may also wish to have multiple non-admin employees viewing footage in order to help monitor foot traffic and security incidents. Shifting to a video platform that can grant you that kind of widespread accessibility is a great way to jump start your security strategy immediately.
Analytical Intuition
Maybe yesterday's video surveillance simply recorded events, but today's business owners deserve better. You need a solution that's intuitive, with built-in capability to perform important analytical functions: people counting, line crossing events and loitering alerts. If you have a system that allows you to program specific analytical commands right within your camera settings, you're on the fast track to a better security strategy.
Viewing Versatility
Bandwidth is currency, and you need to preserve yours in order to keep your business running optimally. Sometimes, you need to use additional bandwidth to view an event in a high resolution video stream. Other times, you simply want to preview your video and make minimal impact on bandwidth. For that, you'll need two streams of video for each camera: a high resolution stream with full performance, and a low resolution preview stream option that takes the continuously recorded video off the cloud so you can preview it. Multiple streams means more versatility, and more versatility means a better security strategy.
These are some of the things to look for in a video surveillance platform that can help you elevate your security strategy. To discuss a platform that can provide you these features, contact Accel Communications today. We look forward to helping you.
ABOUT Accel Communications, Inc.
Accel Communications has operated in the Greater Arizona area since 1990 as a full-service security alarm company that sells, installs, monitors, and services fire and security systems. They are the leader in Honeywell Fire, Brivo Web-Based Access Control, Eagle Eye and Flexwatch CCTV camera systems, and DMP Security.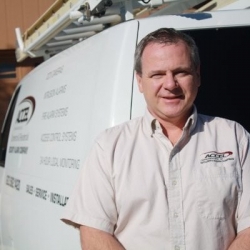 Latest posts by Evan Gavrilles
(see all)