Maybe your summer hours mean shorter days because of slower crowds, or longer nights because of a packed house. If you'd like to devote some time to enjoying more of the summer yourself, then maybe it means an extra day or two of closure every week to give yourself a break. Whatever changes you make to your business hours for the summer, here are some extra considerations that can help boost your security.
Glass Break Detection to Protect Against Smash-and-Grab
If your business has a front window where merchandise is displayed, it's more vulnerable to smash-and-grab burglaries in the hot summer months than it is the rest of the year. To minimize this risk, you may wish to add glass break detection to your business security system. The door contacts, window contacts and infrared motion detectors are highly effective, but adding glass break detection maximizes their potential for protecting you from the wanton disregard of brazen thieves who would break your window to gain access to your merchandise.
When the sensor detects the vibration of broken glass, it triggers a piercing alarm that tends to send thieves running before they can grab any loot. It also triggers a signal to the monitoring center, so security agents can get the police to your business right away.
Video Analytics to Minimize Internal Theft or Unruly Patrons
Smash-and-grab is primarily a retail challenge. If your business is a food or beverage establishment, your security struggles are likely to include internal theft and unmanageable patrons. With the help of video analytics enhancing your surveillance, you can have the business intelligence you need to minimize these incidents at and around cash registers, bars, storage rooms and employee exits. By viewing on-demand video of activity in these areas, you can reduce unruly customer incidents and find out right away if there's a theft attempt from a staff member.
When the relaxed inhibitions of summer overtake the people who occupy your building, you'll have the security technology to protect against losses.
We can help you boost your business security to accommodate summer business hours. Call Accel Communications to learn about any of the technologies discussed here.
ABOUT Accel Communications, Inc.
Accel Communications has operated in the Greater Arizona area since 1990 as a full-service security alarm company that sells, installs, monitors, and services fire and security systems. They are the leader in Honeywell Fire, Brivo Web-Based Access Control, Eagle Eye and Flexwatch CCTV camera systems, and DMP Security.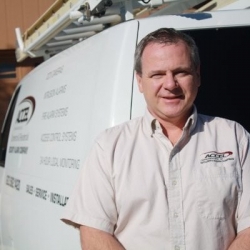 Latest posts by Evan Gavrilles
(see all)