The news has been dominated by reports of cybersecurity attacks that impair the systems we rely on for our living essentials: food, energy and vehicle fuel. There are also frequent attempts to breach the systems of retailers, creditors, healthcare systems and financial institutions. Whatever your business is, protecting your network from cyberattack is a critical responsibility that has major implications for your customers.
Understand this: Hackers can enter through any part of your network, including physical security technology like your video surveillance system. Fortunately, our partners at Eagle Eye have provided this guidance to help everyone concerned.
Keep access level permissions to a minimum.
In their cybersecurity guidelines, Eagle Eye advises security dealers like us to keep permissions low and protections high. That means giving installers and technicians the minimum access needed to do their jobs. On the customer's end, it means limiting admin access to end user data, even among IT staff (one system administrator can have access, but the entire staff doesn't need it). By working together on minimizing permissions, we create a result of maximum cybersecurity.
Require multiple authenticators for account access.
From healthcare to finance, security-sensitive industries now require multiple authenticators in order to grant information or access. When it comes to your video surveillance system, this is one way Eagle Eye helps us protect your recorded data: by requiring us to provide the secret PIN number when we contact them to discuss your support needs.
But it doesn't end there; in addition, Eagle Eye helps us protect your video data with end-to-end encryption.
Accept nothing less than end-to-end encryption.
The zenith of cybersecurity is encryption, and that applies to video surveillance cybersecurity as well. Here's the lifecycle:
Video is recorded.
Its data is transferred from the camera to the bridge.
The data is automatically encrypted to transport up to the cloud and stays encrypted.
When an authorized user requests to view and provides the required authenticators, Eagle Eye can then decrypt for viewing.
For the cybersecurity of your business, you should accept nothing less than impenetrable security of your video data. To discuss your business' video surveillance needs, call Accel Communications today. We look forward to helping you.
ABOUT Accel Communications, Inc.
Accel Communications has operated in the Greater Arizona area since 1990 as a full-service security alarm company that sells, installs, monitors, and services fire and security systems.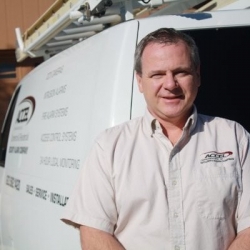 Latest posts by Evan Gavrilles
(see all)