For retail businesses, restaurants and the hospitality industry, the summer is always a risky time in terms of building security. But if you own an office building or own a business that leases one, your property is subject to its own security risks in the summer as well — risks that can impact employee safety, as well as your bottom line.
Fortunately, we have security technology that can protect your office building when risks arise. Consider how these systems can keep your building secure during the vulnerable summer months.
Crimes of intrusion can be prevented by access control.
With a cloud-based access control system your building administrators can manage from anywhere, crimes involving intrusion of your building can be thwarted. The prevention is in the credentials; employees and other approved individuals will have activated credentials, such as keycards or keyfobs, to replace the risks of traditional keys.
These credentials can be deactivated by you or your authorized administrators at any time, using any device with an internet connection.
When you assign a dedicated administrator to manage the system and deactivate promptly with every termination, you can eliminate the risk of criminal behavior on the part of terminated employees.
You and your administrators will be able to view the door activity on your access reports at any time; however, you'll have even more insight when connecting your access control to your video surveillance system. By checking your video footage at the time of each entry, you'll have a visual confirmation of who entered the building at each time on your report.
Property criminals and corporate spies can be identified on video.
The risk of dangerous property crimes multiplies substantially in the summer. This includes crimes such as:
Breaking and entering
Arson
Vandalism
In addition, non-violent crimes like loitering and overnight squatting can be costly to your business. And don't forget inside jobs, including corporate espionage. Trusting an experienced security integrator to install video surveillance inside and out can dramatically reduce your business' risk of falling prey to these devastating losses.
Reach out now to get started.
Summer security risks are real, but technology is on your side. If you're ready to get started on securing your office building before summer is in full swing, contact Accel Communications today. We look forward to helping you.
ABOUT Accel Communications, Inc.
Accel Communications has operated in the Greater Arizona area since 1990 as a full-service security alarm company that sells, installs, monitors, and services fire and security systems.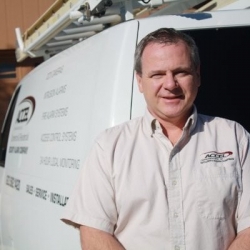 Latest posts by Evan Gavrilles
(see all)