Every seven seconds in America, someone is injured on the job. Even more troubling than that reality is the fact that no industry is immune to workplace injuries. But there's good news: Most, if not all, workplace injuries can be prevented. Here are four safety tips to help.
1. Acknowledge the risks.
All brick and mortar businesses have some level of risk when it comes to fire or theft. Then, there are risks that are more specific to your industry. A construction company is at risk of major injury from falling objects, while an office building may have risks more specific to ergonomics. Acknowledging the risks that are unique to your industry will help you create the most appropriate safety guidelines, but you can also reference the Occupational Safety and Health Administration (OSHA) materials on risks for every industry.
2. Have a safety plan.
Every workplace needs a safety plan. Here's what yours should include:
Protocol for handling injuries.
Procedures for reporting equipment malfunctions.
Phone numbers for emergency responders.
Detailed, but simple to understand, maps for evacuating the building or area.
Contact information for questions or concerns.
Additionally, an annual drill to practice the plan is a good idea. This helps employees remember what to do if there's a fire, active shooter, or natural disaster.
3. Hold routine safety training.
\"Safety first\" is more than a catchy phrase. The truth is, employees should be trained in safety procedures for their job duties as soon as they are hired. This training can include:
Appropriate workplace attire.
How to handle equipment.
Use of personal protective gear.
Guidelines for preventing fatigue or overuse injuries.
When the training course concludes, employees can be tested on the material. This can ensure everyone understands the safety expectations of your worksite.
4. Go wireless with workplace cameras.
Installing wireless security cameras in the workplace can help you:
Monitor areas or sites to ensure proper safety procedures are being followed.
Provide a visual tool to help prevent future accidents.
Give insight into accidents to determine whether proper safety guidelines were followed.
As an employer, you can view the live video feed from your smartphone at any time of day. You can also view clips of past activity that was captured on video. This is a valuable tool for employers who are unable to be onsite all the time.
By following these workplace safety tips, you can prevent workplace injuries and protect your employees. To learn more about wireless security cameras and other technology to boost workplace safety, contact us today.
About Accel Communications Inc.
Accel Communications has operated in the Greater Arizona area since 1990 as a full-service security alarm company that sells, installs, monitors, and services fire and security systems. They are the leader in Honeywell Fire, Brivo Web-Based Access Control, Eagle Eye and Flexwatch CCTV camera systems, and DMP Security.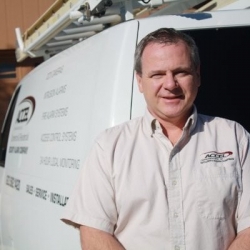 Latest posts by Evan Gavrilles
(see all)