A security system may be the only thing that stands between your business and disaster, so doesn't your company deserve an affordable and smart security solution? You may think that you can't afford the latest in security technology, but can you afford not to buy one that actually protects your employees, visitors, and assets?
You're in luck. Today's most innovative intelligent security solutions integrate with your current security system to save money while providing top-notch security.
A Smart Business Security System is on Duty 24/7
Smart security is always working 24/7 with intelligence and sensors to notify you of suspicious activity. It even locks your doors and arms itself if you forget to at the end of the day.
Intelligent security is proactive, identifying problems, and helping you react quickly before the incident turns into an emergency. And these systems learn the patterns of business activity over time so they can better identify true suspicious activity. Many can even tell the difference between animals, people, and objects to reduce false alarms.
Intelligent Video Surveillance Keeps You Informed
Today's video surveillance systems are much more than motion active security cameras. A fully integrated surveillance system helps you record critical video footage and view live video feeds 24/7.
Set up customized notifications, so you receive alerts on the activity you need to know about. Want to be notified with a video clip whenever someone opens the store for the day but now whenever a customer walks in? Your smart security system can tell the difference.
Once you receive an alert, you can access live feeds through the security app. The app allows you to verify if your store manager needs back in because he forgot something or if someone is breaking in after hours.
You can do all of this without running into work late at night or on your day off.
Being able to watch your business remotely and respond to real suspicious activity but not false alarms provides a freedom that your old legacy system can't offer. For more information on upgrading your old security system, contact Accel Communications.
ABOUT Accel Communications, Inc.
Accel Communications has operated in the Greater Arizona area since 1990 as a full-service security alarm company that sells, installs, monitors, and services fire and security systems. They are the leader in Honeywell Fire, Brivo Web-Based Access Control, Eagle Eye and Flexwatch CCTV camera systems, and DMP Security.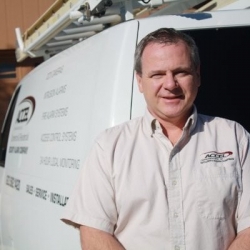 Latest posts by Evan Gavrilles
(see all)