Retailers have been forced to tighten their belts recently, but recent events have also created new security risks for employees and customers while triggering a major uptick in vandalism and theft. As your budget is being ordered, here are five security investment suggestions to consider.
1. Video Storage Replacement
If a retailer is still storing security video on a DVR, this antiquated technology can lead to big gaps in surveillance coverage. Replacing the DVR with a network video recorder (NVR) can eliminate those gaps – and because a network video recorder is compatible with both analog and IP video cameras, there's no need to upgrade cameras unless the budget allows for it. Retailers can work with what they have for now, and upgrade later when there's more budget flexibility. NVR technology can support a store's video storage needs well into the future.
2. Video Analytics Technology
Video surveillance is critical, but it's also the bare minimum. After the security challenges of 2020, next year's budget can greatly benefit from video analytics as well. With its motion triggered action, video analytics accomplishes numerous surveillance goals. They include:
Monitoring time spent in the store
Measuring time spent in line
Identifying when people and objects appear or disappear
Determining threshold crossing and occupancy levels
For retailers that want to make a deeper investment, some video analytics services are equipped with artificial intelligence (AI) technology. Video analytics with AI can help by differentiating customers from employees and ensuring that managers only receive alerts for custom events. This more advanced, analytical surveillance boosts loss prevention while reducing the burden on store owners and their employees.
3. Video Verification
Intrusion alarm systems are vital – but as false alarms become more prevalent and costly, video verified alarm service is becoming equally important. Using video verification helps maximize an alarm system's effectiveness and minimizes its costs – specifically, the costly consequences of false alarms. With video verified alarms, employers will no longer need to go to the site (or send an employee) afterhours to verify alarms and deal with law enforcement. The integration of video ensures that help is only dispatched to the site if the alarm is verified, which eliminates the cost of paying city fines for false alarms.
4. Virtual Security Guards
For shops that have been tested by recent social events, live security guards may seem like the only sensible investment. However, hiring live guards can be a costly expenditure. In 2021, consider the alternative of a virtual security guard service; this entails a team of remote security professionals monitoring the location on live video. The service includes two-way voice technology so that people onsite can speak directly to the security service if needed (and, so that the remote guards can speak to trespassers). A virtual security guard service can also include afterhours patrols to mitigate loitering, dumpster diving, vandalism and other prohibited activity.
5. Network Infrastructure
Security services are only as good as the network they rely on. When retailers have limited bandwidth, security devices may be forced to compete with other important applications (the point-of-sale system, for example). The only way to make sure all this technology is operating effectively is to optimize the network infrastructure: bandwidth, 4G/5G wireless connectivity technology and routers. While putting together the 2021 budget, retailers should identify any gaps in network infrastructure and invest in solutions to fill those gaps.
These are five security technology investments for budget-minded retailers this year. To inquire about any of the solutions suggested here, contact Accel Communications. We will be glad to answer your questions.
About Accel Communications Inc.
Accel Communications has operated in the Greater Arizona area since 1990 as a full-service security alarm company that sells, installs, monitors, and services fire and security systems. They are the leader in Honeywell Fire, Brivo Web-Based Access Control, Eagle Eye and Flexwatch CCTV camera systems, and DMP Security.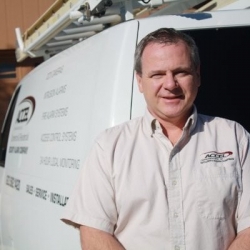 Latest posts by Evan Gavrilles
(see all)