Multifamily homes present unique challenges when it comes to security and access control. With multiple residents sharing common spaces and amenities, it can be challenging to ensure that everyone is safe and secure. However, modern technology has provided innovative solutions that make it easier than ever to manage access control and enhance the resident experience.
In this blog post, we will discuss four essential components of access control and security in multifamily homes. We will explore the benefits of a complete common area solution, the convenience of smart locks and mobile access, the importance of attractive resident amenities, and the ways in which property management tools can streamline tasks and improve management efficiency.
So, whether you are a property manager looking to enhance the security and convenience of your community or a resident interested in the latest access control technology, read on to learn more about how modern solutions can improve the multifamily living experience.
Common Area Access Control: The Foundation of a Safe Multifamily Community
The safety and security of residents in multifamily homes depend largely on the management of common areas. A complete common area solution integrated into a single access control and video management platform that is secure and convenient is the foundation of a safe multifamily community. By implementing a comprehensive access control system, property managers can effectively manage access to common areas, ensuring that only authorized individuals can enter. This not only enhances the safety of residents but also improves the overall quality of life in the community.
Individual Unit Access: Go Keyless and Simplify the Resident Experience
One of the most significant issues residents face is the inconvenience of losing keys or locking themselves out of their units. Fortunately, smart locks and mobile access technology provide a solution. By going keyless, residents can simplify their experience while enjoying enhanced security. Property managers can manage lock-outs with the touch of a button, making it easier to manage units without having to physically be on-site.
Smart locks also provide additional features such as real-time alerts, access logs, and remote access control, further enhancing the resident experience.
Attractive Resident Amenities: Automate the Resident Experience with Mobile Control
Today's residents expect more than just basic security features. They want smart home amenities that provide convenience and comfort. By automating the resident experience with mobile control from a single app, property managers can provide attractive resident amenities that not only enhance resident satisfaction but also attract new tenants. Smart home features such as automated lighting, temperature control, and audio/visual systems can be easily controlled from a mobile app, providing residents with an enhanced living experience.
Property Management Tools: Streamline Management Tasks with a Single App
Property managers are responsible for a range of tasks that can be time-consuming and complex. However, with the right property management tools, managers can streamline tasks and reduce the workload. Mobile credentials can be assigned to residents, allowing for easy and secure access control. Common areas can be monitored and managed from a single app, making it easier to keep track of activities and events. Property managers can also control environmental features in vacant units and grant access to self-guided tours, further reducing the workload and enhancing the overall management experience.
ABOUT Accel Communications, Inc.
Accel Communications has operated in the Greater Arizona area since 1990 as a full-service security alarm company that sells, installs, monitors, and services fire and security systems. They are the leader in Honeywell Fire, Brivo Web-Based Access Control, Eagle Eye and Flexwatch CCTV camera systems, and DMP Security.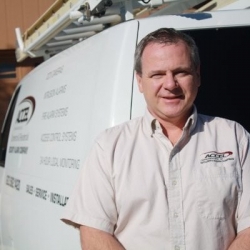 Latest posts by Evan Gavrilles
(see all)