Access control continues to be one of the most popular emerging technologies in electronic security. Business owners and site managers love the added security that comes with electronic credentials like keyfobs and badges — specifically, the ability to activate and deactivate employee credentials as people are hired and terminated.
While replacing the hassles of traditional keys with access control is a big step, a business's enhanced security plan shouldn't end there. The fact is, your access control solution isn't complete until video surveillance is integrated with it. Here are some of the most important reasons why.
Video surveillance connects virtual and physical identities.
With our access control solution, you can log into your account and find out who has accessed your entry points using a single interface. However, you\'ll only be viewing people's virtual identities (the name or employee ID number connected to the access credential).
To verify the access report and confirm that the person who entered at a specific time is the authorized person with that credential, you need timestamped surveillance video. Checking the access report against your video surveillance is the only way to be sure that authorized people are entering, and only during the times they're authorized to enter.
Video surveillance fills in the gaps once people have entered.
Often, access control is only installed at entry points. To continue monitoring activity throughout the building once people enter, you need video surveillance as well. Motion-triggered cameras can be installed in any area you need to monitor, including:
Elevators
Garages
Loading docks
Lobbies
Reception areas
Staircases
Workspaces
To check on recorded activity, a site manager can access video surveillance footage from anywhere there's an internet connection via smartphone, tablet or computer. We use Eagle Eye Networks, a cloud storage based video management system that can be accessed anywhere in the world. No matter where you are, you can know what's happening at your business by combining this cloud-based video surveillance with your access control solution.
Video surveillance costs can be manageable.
Some businesses may hold off on enhancing their electronic security for cost reasons. But with our video surveillance solution powered by Eagle Eye Networks, you can deploy video surveillance analytics on one camera or multiple cameras. And because you can deploy it on any type of camera, you may not need to upgrade your cameras when adding on our analytics solution. Your video will be stored in the cloud, which means there's no software to install or large servers to manage. The service is scalable, and you simply pay for the cloud storage you're using.
Access control is essential, but it's just one step. To truly enhance your site's security, access control must be integrated with video surveillance. If you're interested in this integration, call Accel Communications today. We'll be happy to answer your questions.
About Accel Communications Inc.
Accel Communications has operated in the Greater Arizona area since 1990 as a full-service security alarm company that sells, installs, monitors, and services fire and security systems. They are the leader in Honeywell Fire, Brivo Web-Based Access Control, Eagle Eye and Flexwatch CCTV camera systems, and DMP Security.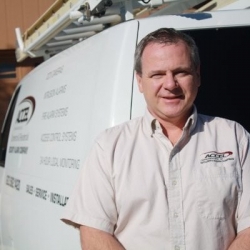 Latest posts by Evan Gavrilles
(see all)