Every commercial enterprise wants to do security correctly, but it\'s easy to be intimidated by the emerging technologies involved. Using this roadmap, you can see how simple the technology is and understand the basics of commercial security.
Step 1: Move to the cloud. 
Everyone's talking about the cloud — but why do you need it? The answer is: Because the cloud makes all your business apps, store data, security and communication tools much more convenient and cost-effective to use. If that's not reason enough, there's this reality: All your technology is moving to the cloud regardless. It's time to catch up, and we can help you do it when it comes to your security technology. If going slowly is your preference, we can start with the products that are approaching obsolescence and convert them to the cloud one at a time (your access control system, for example). The important thing is to start the process now.
Step 2: Adopt mobile. 
As one of our favorite technology executives said, \"Mobile puts the cloud on steroids.\" When all your data is stored in the cloud, you can access it on the web, on demand, with a single login. Now, imagine being able to do that from the convenience of your mobile phone. That's the power of adopting a mobile approach to managing your security. From a cost perspective, mobile solutions are a great way to achieve a lower total cost of ownership. From a management perspective, mobile access gives you real-time access to your video footage and triggered alarms. You'll be able to make decisions on the spot, from anywhere you are. This is powerful!
Step 3: Plan an IoT strategy. 
What's IoT? It\'s not as scary as it sounds. IoT simply means \"the internet of things,\" which involves the interconnectivity of your devices. By connecting all your security technologies and connecting them to the internet via the cloud, you'll have more useful data for managing your property — everything from who's accessing your building to what's happening with your lights and HVAC. This can go a long way toward elevating the quality of your facility management and human resources systems. We can help you plan an IoT strategy to get you started.
Step 4: Understand smart data. 
Don't know what to do with all this new, smart security data? There's so much potential, and we can help you harness it. The smart data you'll get from updating your security technology can help you:
Recognize safety and security threats as early as possible.
Make better choices for staffing, hours of operation and security protocol.
Implement truly effective policies that protect your business assets.
By following this clear roadmap, you aren't just collecting data; you're putting data to use for the benefit of your business.
Step 5: Adopt social media. 
Doesn't social media present a threat to security? Not necessarily. It can enhance communication, collaboration and community, all of which are important in a safety emergency. The security tools that enable communication among employees in emergency situations are often based on the same technological principles as social media. Although social media has not yet been fully embraced in commercial security, you can look for opportunities that fit your business.
The emerging technologies in commercial security may seem daunting, but we can help. Use this roadmap as a guide, and contact Accel Communications to inquire about any of the technologies discussed here.
About Accel Communications Inc.
Accel Communications has operated in the Greater Arizona area since 1990 as a full-service security alarm company that sells, installs, monitors, and services fire and security systems. They are the leader in Honeywell Fire, Brivo Web-Based Access Control, Eagle Eye and Flexwatch CCTV camera systems, and DMP Security.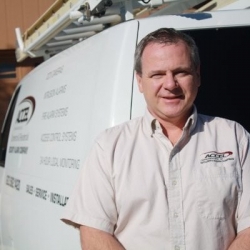 Latest posts by Evan Gavrilles
(see all)