We're living in extraordinary times: more working from home, fluctuating restrictions on our businesses, and a future that's highly uncertain.
The good news is, this isn't forever. Soon, we will all need to evaluate our security protocols and determine how to proceed moving forward.
For example, social distancing requirements may mean limiting access to your building long after lockdowns are lifted. The best tool to help you do this is access control technology, using these best practices for the pandemic era.
1. Assess who has access. 
Start by looking at your current access logs. As you review them, answer these questions:
Are there any ex-employees who still have access?
Are all terminated users removed from your active user list?
Have you seen any access when there shouldn't be?
Does anyone new need access?
Acting on the answers to these questions can help you tighten your building security. However, you can also use your access control system for contact tracing. Your logs should be able to help you determine who was onsite if there are any confirmed cases of COVID among your staff or visitors. By reviewing your logs regularly, you may be able to trace the origins of any COVID cases in your building.
2. Consider remote access management. 
If an access control system is run on the premises, that requires someone to physically go to the site and reboot the server. With cloud-based access control, you can take advantage of a safer, more convenient way to troubleshoot server issues: remote access management. This allows you to manage your access control system remotely from any mobile device, including making any necessary changes to building access.
Whether it's turning off access for non-essential employees or turning on access for the maintenance crew, a cloud-based system allows you to do it from the convenience of your mobile phone. You can even schedule exceptions, which means allowing different people  access at  different times.
3. Keep eyes on your site at all times. 
A cloud-based access control system doesn't have to work alone. Video surveillance can work alongside your access control system to keep eyes on your building at all times. By integrating access control and video surveillance, you can connect your access logs with your video footage to verify who entered at what time.
If you receive an alert that a door has been opened or there was a failed access event (someone trying to get in unsuccessfully), your video footage can help you identify who attempted the access. During the pandemic, video and access control are the perfect partners to help you secure your building.
4. Work with mobile solutions. 
No matter what the local infection rates are, there will be a need to keep things as contract-free as possible long into the future. The less we touch, the better – so instead of issuing key cards that put the user's hand near the door, consider using mobile credentials that only require users to swipe their phones. There are even contact-free biometric options to consider, including FaceID and fingerprint authentication on the user's mobile phone.
As we all determine what our new normal will look like, now is the time to evaluate how to adjust building access for the future. Using these best practices with a cloud-based access control system, you can get your pandemic era building security on the right track. To learn more about cloud-based access control solutions, contact us today.
About Accel Communications Inc.
Accel Communications has operated in the Greater Arizona area since 1990 as a full-service security alarm company that sells, installs, monitors, and services fire and security systems. They are the leader in Honeywell Fire, Brivo Web-Based Access Control, Eagle Eye and Flexwatch CCTV camera systems, and DMP Security.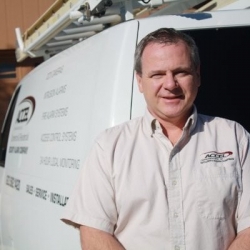 Latest posts by Evan Gavrilles
(see all)