Information security in the workplace is still vitally important – but in 2021, physical security needs to move to the front seat. As you turn your focus to improving physical security at your business, your first step should be a security audit. This is the foundation you need to keep your office safe from intruders, burglars and others who would breach your building's security. Here are some of the measures that can be examined during your security audit.
Natural barriers. Using your landscaping as \"natural surveillance\" is a great, low-tech way to prevent break-ins and other security breaches. Hedges are highly effective when it comes to serving this purpose. Keep them at 36\" or lower so criminals can't hide behind them, but make sure they cover a large area of the perimeter to deter trespassing. Also, your security audit may reveal opportunities to mount cameras behind your natural landscape barriers.
Signage and lighting. A security audit will also look at your territorial reinforcement efforts. Do you have enough signs declaring \"private property,\" \"no trespassing\" or \"Smile! You're on camera\"? Is all of your signage easily visible? How is your lighting – are all doorways well-lit, and is your parking lot bathed in light after night falls? The answers to these questions can determine whether your security efforts are extensive enough.
Access control systems. Of course, some criminals will still attempt to enter despite these barriers. That's where electronic access control comes in. An access control system can dictate who is and isn't able to enter your property electronically, by only unlocking the door for those who have an activated credential (whether the credential is a keyfob, card or even a scannable code on their mobile phone). If you like, it can also be programmed to prevent afterhours access to those who are able to enter during the day. Your access control communicates directly with your alarms and cameras, so that all your security technology works together seamlessly for your building's protection.
Building maintenance. It's simple and straightforward: A clean, nicely maintained business property is far more likely to keep would-be intruders at bay. Criminals, loiterers and other unauthorized people will be intimidated by a building that looks well-maintained. When a business appears to be run-down, that's an invitation to people who might trespass.
By having a qualified security integrator perform a security audit of your business property and making any necessary improvements to any of the measures above, you can provide a safer workplace in 2021. To schedule a security audit or learn more about video, access control and other electronic security, contact Accel Communications. We look forward to helping you.
About Accel Communications Inc.
Accel Communications has operated in the Greater Arizona area since 1990 as a full-service security alarm company that sells, installs, monitors, and services fire and security systems. They are the leader in Honeywell Fire, Brivo Web-Based Access Control, Eagle Eye and Flexwatch CCTV camera systems, and DMP Security.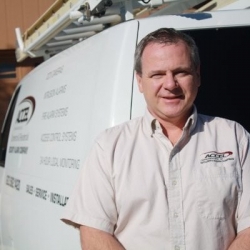 Latest posts by Evan Gavrilles
(see all)