There are offices, and then there are smart offices: workspaces that have the technology needed to operate in an automated fashion. If you're a business owner, automating your office with smart technology is a great way to decrease the amount of time you spend managing an office, and increase the amount of time you spend building a business. Here are some examples of smart security solutions that can help you automate your office in the coming year.
Motion-Triggered Security Cameras
Security cameras that record 24/7 are no longer the industry standard. Now, you want motion-triggered cameras that only record when someone walks into their view. By upgrading to motion-triggered cameras and replacing your old DVR video storage with a new cloud-based storage solution, you're taking the first step toward a more automated office.
In addition, you can add on the text alert feature that notifies you when a new clip has been recorded. Rather than digging through hours of video footage after a security breach, you can view potential events instantly from your phone and make judgement calls on the spot.
An Updated Access Control System
Some companies are still getting familiar with the idea of implementing an access control system to manage building traffic. Others are in need of an update to an access control system that's becoming outdated. Whichever category you fall under, the best access control system for your automated office is one that can be completely customized for the needs of your business. Here's what you want in an access control system:
More control for your management. You or your management want an access control system that lets you add and delete users, initiate lockdowns or deactivate credentials on your own.
Full visibility from anywhere. Access it with a simple login and perform any tasks from anywhere with an internet connection.
Customized options for credentials. Whether you want cards, fobs or a biometric credential, you want to choose an option that works for you and your employees.
Simple, streamlined visitor management. Guests need credentials too. Yours can be granted a temporary mobile pass accessed by a text or email link.
Easy integration with other applications. From your video surveillance to your employee directory, you want an access control solution that can easily communicate with the other security technology onsite.
Smart Solutions for Energy Efficiency
Office automation can extend beyond security technology. By investing in smart energy solutions, you can increase efficiency, lowers overhead costs and feel good about running a greener office. Here are some examples:
IoT tracking systems to define which areas of the office are most heavily occupied.
Smart lighting that automatically adapts according to the number of employees in your space and the natural light levels. This can potentially reduce energy costs by up to 90 percent.
Smart HVAC systems that automatically synchronize the temperature with the usage patterns of your facility, your company calendar and even the weather.
To automate your office this year, you need smart security solutions like these. Call Accel Communications to learn about the smart security technology and energy solutions mentioned here. We look forward to speaking with you.
About Accel Communications Inc.
Accel Communications has operated in the Greater Arizona area since 1990 as a full-service security alarm company that sells, installs, monitors, and services fire and security systems. They are the leader in Honeywell Fire, Brivo Web-Based Access Control, Eagle Eye and Flexwatch CCTV camera systems, and DMP Security.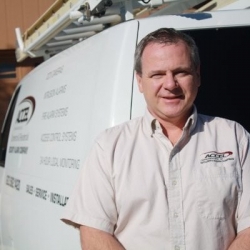 Latest posts by Evan Gavrilles
(see all)