Adding access control technology to your security system is about much more than physical safety and protecting property. The truth is, the right security solution can also be the catalyst for your business to become more efficient from an operational standpoint. Here are some ways that having modern security system, equipped with the right access control technology, can transform your business operations.
Providing Insightful Data
\"What does the data say?\" Managers find themselves saying that all the time, and for good reason: Numbers don't lie. As a manager, you can maintain better organizational wellness by staying on top of the data from your access control technology. Imagine the power of organizing and structuring your data in a way that reveals events and patterns. Seeing these can help you make better, more insightful decisions for your business.
Whether you subscribe to a small business edition that simply secures buildings, to a medium-to-large business edition that also offers trend analysis and advanced integration, you can extract data that reveals important business intelligence and helps you achieve better organizational health.
Offering Outstanding Scalability
With a small business access control package, you'll have the option to easily add functionality and integrations as needed. With a medium-to-large business professional edition, your access control can also have:
Advanced analytics to unlock access trends.
Integrated identity management.
Connectivity with G-suite, Okta and other IAM systems.
A package of door readers and mobile passes.
Integration ability with any application.
With either edition, you can scale up and down according to the size of your business as it fluctuates.
Providing Physical Security Software
Because of outdated perceptions regarding physical security, traditional security systems have been undervalued over time. But times have changed, with enterprise security shifting to the cloud and bringing physical security into the modern age. The data is no longer stored on a physical device, but in the cloud with end-to-end encryption that makes it inaccessible to hackers, but always accessible to you.
These are just some of the ways that modern security systems equipped with cloud-based access control can transform a business operation. To learn more about acquiring this security technology for your business, contact Accel Communications. We will be happy to answer your questions.
About Accel Communications Inc.
Accel Communications has operated in the Greater Arizona area since 1990 as a full-service security alarm company that sells, installs, monitors, and services fire and security systems. They are the leader in Honeywell Fire, Brivo Web-Based Access Control, Eagle Eye and Flexwatch CCTV camera systems, and DMP Security.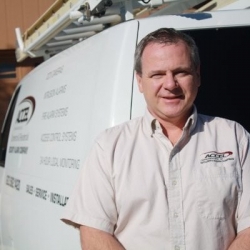 Latest posts by Evan Gavrilles
(see all)