From commercial office buildings to the residential multi-family space, there is a need to up the efficacy of building security. Arizona stakeholders in these buildings can get the improved efficiency they need from security in many ways; one of them is by adding smart card readers to their security regimen. Accel Communications recommends these access control readers to anyone looking to add a new level of sophistication to their security procedures. Here's what they can offer. 
Additional Elegance 
Even the most modern complexes can benefit from an appearance boost. The additional elegance that smart readers for access control add to your building cannot be understated. Many tenants are ready to move on from keeping track of physical keys, and the outdated ritual of locking and unlocking with them as well. That's why prospective tenants will appreciate the sleek, streamlined appearance of a card reader at every protected door.
At Accel Communications, our card readers come in a variety of options to fit any building style. Choose one that will appeal to the tenants you want to attract. 
Simple Management
Smart readers may look simple, but their inner workings are complex. The good news is, administrators don't need to master the complexities. Our smart card readers seamlessly connect to the web-based control panel your authorized employees will use to manage the system. Necessary processes, like issuing custom access credentials and connecting each smart reader device to Bluetooth, are a breeze. Meanwhile, the smart cards you will issue to tenants are encrypted to ensure they cannot be counterfeited by anyone. Each card will only work with the reader device it is paired with. These are the simplified management benefits you want for your building security. 
System Flexibility 
Wondering if your current security system setup is compatible with a smart reader for access control? Accel Communications has a variety of options so that compatibility with your current setup can be simple. When you contact us for an access control system consultation, we can determine whether any modifications need to be made in order to install smart readers in your building. Arizona building security stakeholders who are interested in learning more can call Accel Communications now. We look forward to answering your questions.  
ABOUT Accel Communications, Inc.
Accel Communications has operated in the Greater Arizona area since 1990 as a full-service security alarm company that sells, installs, monitors, and services fire and security systems. They are the leader in Honeywell Fire, Brivo Web-Based Access Control, Eagle Eye and Flexwatch CCTV camera systems, and DMP Security.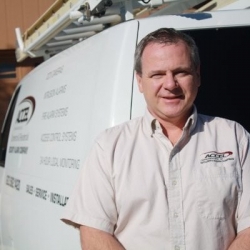 Latest posts by Evan Gavrilles
(see all)