Thanks to interest rate hikes and water supply concerns, the construction market has slowed in Phoenix. This is a good time for development companies and building ownership to shift their construction budgets to making improvements to their existing buildings  — and one of the best places to shift the budget to is building security. Phoenix developers and building owners can make major security improvements with the help of a single resource, and it starts by calling Accel Communications. Let us help boost building security on your property with these effective technology upgrades. 
Keyless Entry for Tenants
Whether your building is residential or business, your tenants deserve a safe, easy way to enter their units. Traditional keys no longer fit that description, but there is a cost-effective alternative: electronic access control. An access control credential is the most secure way to enter a unit safely and quickly, and Accel Communications can install it in your building now.
We give you many options for issuing credentials to your tenants, from cards, to keyfobs, to biometric options for even more impenetrable security.
This upgrade can also help boost your sales, as offering keyless entry can help you fill occupancies faster and keep tenants happier for the long-term. 
Cloud-Based Camera Systems
The moment a crime takes place, the first recourse a tenant expects of management is checking surveillance camera footage. If a tenant learns that their event was not captured on camera, or the footage was only stored for a short time before it was \"recorded over\" by another event, they can be dissatisfied to the point of vacating their occupancy. To prevent this from happening, use your security budget to invest in a cloud-based camera system that stores your video offsite. You'll have unlimited access to your video, and your tenants will be far more satisfied with your response in the event of a crime. At Accel Communications, our cloud-based video surveillance also features artificial intelligence (AI) to discern granular subject details captured on camera. This can make your building a safer place to occupy, whether residential or business. 
Call Accel Communications to Learn More
With construction cooling down in Phoenix, upgrading building security in your existing properties is a great place to allocate your budget during this time. If your construction budget is being shifted to security in your existing buildings, Accel Communications can help you utilize it efficiently. Contact us to learn more. 
ABOUT Accel Communications, Inc.
Accel Communications has operated in the Greater Arizona area since 1990 as a full-service security alarm company that sells, installs, monitors, and services fire and security systems. They are the leader in Honeywell Fire, Brivo Web-Based Access Control, Eagle Eye and Flexwatch CCTV camera systems, and DMP Security.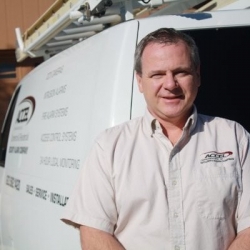 Latest posts by Evan Gavrilles
(see all)