For the majority of multi-family building owners and their property managers, summer is the high season for move-ins and move-outs, and all the security challenges they entail. Today's tenants expect these processes to be simple, and they expect their property managers and building owners to help. Fortunately, there are access control solutions to help Arizona building managers do this.  
Remote Building Access Management
With an Access Brivo Onair access control system from Accel Communications, building stakeholders can remotely manage access from anywhere — even from a summer vacation spot. No matter where you are, it's easy to activate and deactivate tenant credentials from your location. 
A More Seamless Moving Season 
With this powerful access control tool, your building's summer move-ins and move-outs can be handled seamlessly. That includes problems like: 
Tenants moving out on short notice. 

Tenants failing to give notice at all.

Tenants taking their access credentials. 

Tenants misplacing their access credentials.      
If you are a multi-family building owner or authorized administrator of a multi-family building, this can be done with the convenience of your own smartphone or tablet. 
Ideal Access Management All Year Long
This is the perfect tool for the summer moving season in multi-family buildings, but it can be the ideal access management tool building owners need all year long — and when you integrate smart locks into your solution, it can be even better. To simplify your building access management now, call Accel Communications. We're here to help offer solutions for access control in Arizona. 
ABOUT Accel Communications, Inc.
Accel Communications has operated in the Greater Arizona area since 1990 as a full-service security alarm company that sells, installs, monitors, and services fire and security systems. They are the leader in Honeywell Fire, Brivo Web-Based Access Control, Eagle Eye and Flexwatch CCTV camera systems, and DMP Security.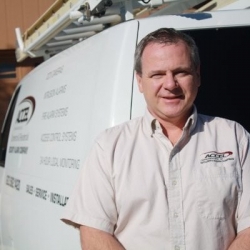 Latest posts by Evan Gavrilles
(see all)