For those managing security on government properties, expanding, upgrading and scaling video surveillance is an outstanding way to leverage a technology that's already onsite by making it more powerful and effective. However, there is another technology that should be implemented for government security: access control. Arizona government security managers, Here's what you can benefit from when we install access control at your site. 
Authorized Entry Only
Typically, restricted entry areas are replete throughout governmental facilities. On the government property you manage, any security sensitive areas that are restricted to specific personnel can get the extra protection they need with electronic access control. These systems ensure that only authorized individuals enter a restricted area, by swiping an activated credential that is programmed to only open the protected doors and gates the individual is permitted for. Those without the proper credential will not be granted entry. Government clients can choose from a variety of credentials, from cards, to keyfobs, to biometrics. Ask us for more information. 
Easy Remote Management
If your site already has access control installed, our systems can bring your protocols up to the current standard with more modern technology. Our access control systems are simple for Arizona government site administrators to manage. Each person's credential can be activated and deactivated remotely using a secure web portal that only administrators can access.
Admins can add and delete users, change which areas specific personnel has access to, and change time schedules so entry is only possible during each person's approved shift. 
Report Ready Intelligence
On government properties, access control joins video surveillance in being a tool that provides actionable intelligence for stakeholders and decision makers. By generating reports from your video and access systems, you can see information on times, traffic and other important security details onsite for any time period needed. The intelligence provided in your reports can be helpful for audits, policy decision meetings, investigations, and other critical events that happen at governmental facilities. 
Call Accel Communications to Learn More
Whether you manage security for a federal property in Arizona, an Arizona state government property, or a local municipal building, you need security technology that eliminates vulnerabilities and protects the premises from crime. At Accel Communications, that's exactly what we have provided to government properties throughout the state — from military installations, to public schools, to state and local government service buildings. To discuss video surveillance or access control, Arizona government security managers should call us today. 
ABOUT Accel Communications, Inc.
Accel Communications has operated in the Greater Arizona area since 1990 as a full-service security alarm company that sells, installs, monitors, and services fire and security systems. They are the leader in Honeywell Fire, Brivo Web-Based Access Control, Eagle Eye and Flexwatch CCTV camera systems, and DMP Security.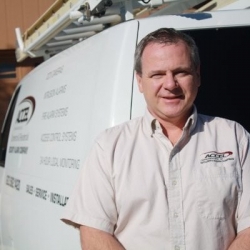 Latest posts by Evan Gavrilles
(see all)