Property managers are phasing out traditional keys for the units they manage, in both residential and commercial buildings, for a number of reasons. Keys are no longer the most reliable way to secure units; they can easily go missing due to tenant misplacement, be stolen by visitors or neighbors who have bad intentions. 
The alternative to mechanical lock and key systems is replacing them with smart locks. Smart locks are the way to give tenants secure access to their units at all times, with minimal involvement on the part of the property manager. They're a win for all involved. 
Are Smart Locks Affordable for Property Managers?
They certainly can be. One of the most exciting advantages of smart locks is their affordability. Even when budgets are tight, building managers can replace outdated lock mechanisms with this modern access system. It all comes down to who you trust to do the job. Accel Communications offers scalable, affordable smart lock installation in Arizona. We make smart lock conversion budget-friendly by enabling clients to keep any existing hardware they may have and integrating it with a new smart lock access control system. Our access control solutions integrate with many of the top brands that property managers know and trust; often, that means eliminating the need to invest in new hardware. This is how we make smart lock installation accessible at a fraction of the cost elsewhere. 
What Does a Smart Lock System Do for Property Managers?
A smart lock access control system can enable property managers and building administrators to monitor door status and traffic into the building in real-time. It can also generate on-demand reports that provide an overview of building access within a specified time frame. Furthermore, it can help management save even more money by replacing the cost of paying a live, full-time security guard.
To accommodate as many types of properties as possible, there are a variety of locks to choose from: exterior, interior, gates, aluminum frame, cylindrical/mortise, glass, and more. 
What Does a Smart Lock System Do for Tenants?
For tenants, a smart lock access control system makes getting into the building, and/or their individual units, simpler and more secure than traditional lock and key systems. Market research shows that tenants are more likely to renew their leases when they feel more secure inside a building or unit — and, the same research shows that tenants report feeling more secure in dwellings and offices where smart locks are installed on the premises. 
Call Accel Communications to Learn More
To learn more about achieving better building security through smart lock conversion, property managers can contact Accel Communications. We specialize in smart lock installation in Arizona, both at residential and commercial properties. Call us at (623) 321-2430 to discuss your specific security needs; we're ready to help. 
ABOUT Accel Communications, Inc.
Accel Communications has operated in the Greater Arizona area since 1990 as a full-service security alarm company that sells, installs, monitors, and services fire and security systems. They are the leader in Honeywell Fire, Brivo Web-Based Access Control, Eagle Eye and Flexwatch CCTV camera systems, and DMP Security.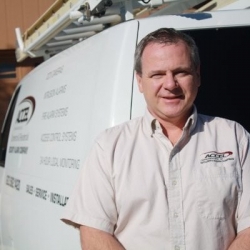 Latest posts by Evan Gavrilles
(see all)