Whether you manage security for a federal property in Arizona, an Arizona state government property, or a local municipal building, you need security technology that eliminates vulnerabilities and protects the premises from crime. At Accel Communications, that's exactly what we have provided to government properties throughout the state, from military installations, to public schools, to state and local government service buildings. Depending on your needs, we may recommend these measures.
Expanding Video Surveillance
When a serious security breach takes place at a government facility, investigations often reveal that surveillance coverage was not adequate in a number of places. This is why it's critical to expand the reach of your surveillance network now, and we can make it easy. If your existing cameras are performing well, we can work with them; our video surveillance platform is compatible with more than 3,000 camera types, from analog to IP. It even communicates with models that are unique to government properties, like mobile body worn cameras and in-vehicle cameras.
Upgrading Video Surveillance
Of course, some government properties may be required to upgrade cameras to meet specific criteria. If that is the case for your government or municipal property, Accel Communications can help you upgrade to video surveillance that utilizes:
Artificial intelligence (AI), to identify granular details on video
Video analytics, to assess risks and threat levels
Search functionality, so specific events can be located quickly
Cloud storage, so you can store an unlimited surveillance history
For authorized individuals with government issued mobile devices, the system can integrate with both Android or iOS apps.
Scaling Video Surveillance
Throughout Arizona, most city governments are expanding, rather than scaling down. Fortunately, our video surveillance platform is fully scalable so that your system can be scaled up or down according to its rate of growth. We offer the Eagle Eye Cloud VMS platform, which future-proofs city video surveillance investments with a scalable solution that supports the storage and analysis demands of citywide deployments, military bases, school campuses and other government applications.
Whether you are managing security for a federal property, state building, or a local city service, video surveillance for government properties in Arizona is one of our many areas of expertise at Accel Communications. Contact us today to request a complimentary analysis.
ABOUT Accel Communications, Inc.
Accel Communications has operated in the Greater Arizona area since 1990 as a full-service security alarm company that sells, installs, monitors, and services fire and security systems. They are the leader in Honeywell Fire, Brivo Web-Based Access Control, Eagle Eye and Flexwatch CCTV camera systems, and DMP Security.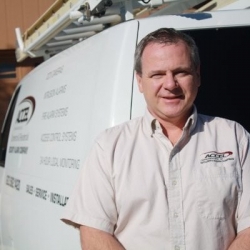 Latest posts by Evan Gavrilles
(see all)