Having a visitor management system installed can make a major difference in the security of your building or campus by automating visitor sign-in, issuing printed visitor badges and creating a detailed log of deliveries to the property. It's important to be aware that this is a different security technology than an access control system; if you are looking at both these security systems in Phoenix and weighing your options, here are some key distinctions to be aware of.
Focus on Secure Entry
While a visitor management system is designed to screen visitors in lobbies, waiting rooms and delivery areas, an access control system is designed to keep unauthorized individuals from entering restricted areas. An access control system can be installed at a front door to keep out everyone who isn't an employee; or, it can be installed in restricted areas throughout the building so that only authorized staff can enter. While a visitor management system is there to welcome and process visitors, an access control system is there to secure access points throughout the building.
Remote Door Management
One of the most exciting features of modern access control systems is remote management: the ability to add and delete users and activate/deactivate user credentials from your own smartphone or tablet, no software necessary. What's even more exciting is that remote management doesn't end there; with an access control system from Accel Communications, you can actually lock and unlock all protected doors with your device as well. That means leaving home in the middle of the night to let in an approved worker or vendor who needs access. Building administrators can enjoy a great deal of convenience with the remote door management aspect of access control.
Phasing Out Keys
With more organizations phasing out traditional keys, the standard bearer replacement is a quality electronic access control system. With access control, an authorized employee will have a credential (a keyfob, card or other device) that the employer activates so that the device unlocks the door when swiped at the panel. To monitor and document visitors to the property, a visitor management system can be used whether or not an access control system is installed.
These are some of the primary differences between access control systems and visitor management systems. To learn more about these excellent security systems in Phoenix and throughout Arizona, contact Accel Communications.
ABOUT Accel Communications, Inc.
Accel Communications has operated in the Greater Arizona area since 1990 as a full-service security alarm company that sells, installs, monitors, and services fire and security systems. They are the leader in Honeywell Fire, Brivo Web-Based Access Control, Eagle Eye and Flexwatch CCTV camera systems, and DMP Security.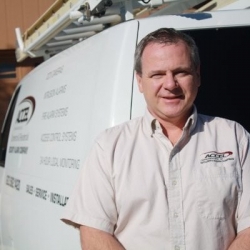 Latest posts by Evan Gavrilles
(see all)