A visitor management system is a unique technology that can enhance the security climate of any building. Here are some of the most valuable features of visitor management systems, and advantages that Arizona businesses can look forward to.
Update and Automate Visitor Sign-In
If you're still relying on pen and paper to record visitor sign-ins, a visitor management system can bring your process up to date. A touch screen pad is their portal to signing in accurately and securely; they will be asked to provide their name, appointment information, the name of the person they are scheduled to meet with, and if applicable, their contact information. Once the sign-in is complete, the host of the meeting (or other authorized person) will receive a notification with all the information provided. A screening questionnaire can also be included, with custom questions you determine. This is streamlined and simplified for modern meeting protocols.
Print Immediate Visitor Badges
Also at sign-in, a visitor management system will use its built-in camera to take the visitor's photo — and then, it will create and print a visitor badge with the person's image and name. The printed badge will also feature the name of the meeting host and the date of the meeting; this ensures that visitors can only use their badges for the day they are scheduled.
With visitor badges, everyone on the premises can be identified quickly and located on demand if needed.
Record Deliveries to the Premises
A visitor management system is also the best way to document deliveries to the property. Delivery workers can use the sign-in system to quickly enter their name, company and the nature of the delivery, including the items if required. Management will have a complete log of all deliveries, and the timestamped record can be checked against surveillance video when needed. No more questions about what was delivered when.
Provide Reports on Demand
Authorized managers at your organization can log in using their own web connected devices to see all visitors for any given day or time range. These on-demand reports can be critical to pinpointing the time of a security event, identifying any potential suspects who may have been involved, and locating possible witnesses to the activity.
If you are interested in installing a visitor management system, Accel Communications can help. We even offer thorough visitor management system training for your employees before deployment and 24/7 support as you use it. To learn more about visitor management systems for Arizona businesses, call Accel Communications now.
ABOUT Accel Communications, Inc.
Accel Communications has operated in the Greater Arizona area since 1990 as a full-service security alarm company that sells, installs, monitors, and services fire and security systems. They are the leader in Honeywell Fire, Brivo Web-Based Access Control, Eagle Eye and Flexwatch CCTV camera systems, and DMP Security.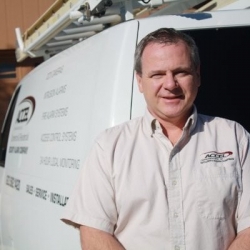 Latest posts by Evan Gavrilles
(see all)