Summer is often a time of heightened crime in apartment communities. This year, summer apartment security concerns in Arizona started early, starting with a shooting on June 2 at a complex in Apache Junction. 
Multi-housing properties are especially vulnerable in the summer months — and as an apartment manager or property owner, you bear a great deal of the responsibility for safety of the premises. Accel Communications has the security technology you need to provide tenants with the safest living environment possible. If your apartment community does not yet have these installed, we recommend making these improvements this summer.  
Monitored Video Surveillance 
When a tenant experiences a crime in the community, the last thing you want to be responsible for is delivering the unfortunate news that there were no cameras onsite to capture the incident. To prevent this from happening, you need monitored video surveillance installed throughout the property. Some of the most important places to install cameras include stairwells, common areas, parking areas and shared facilities where residents may be alone and vulnerable, such as laundry rooms. The cameras can be monitored at all times by our central station, where a live agent can verify crimes in progress to escalate a police response. 
Keyless Access Control 
Many communities don't have room in the budget for a live security guard or courtesy officer. But for a more manageable cost, a better alternative can be electronic access control, which can protect both common areas and individual residential units with a system that grants access to tenants securely, without keys that can be lost or stolen. As an administrator, you can manage the system remotely from any web-connected device, including your own smartphone. That means a simple tap on the phone to add a new resident or deactivate a card when a tenant moves out.
It's simple and effective, especially in the summer seasons when mischief makers and potential criminals are more likely to trespass the property.
There are real concerns in multi-family communities during the summer, but you can provide a safer atmosphere for tenants with these security investments. To learn more about better apartment security in Arizona this summer, call Accel Communications. We look forward to answering your questions. 
ABOUT Accel Communications, Inc.
Accel Communications has operated in the Greater Arizona area since 1990 as a full-service security alarm company that sells, installs, monitors, and services fire and security systems. They are the leader in Honeywell Fire, Brivo Web-Based Access Control, Eagle Eye and Flexwatch CCTV camera systems, and DMP Security.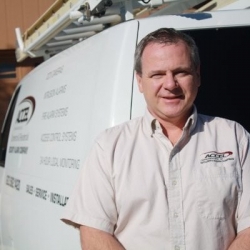 Latest posts by Evan Gavrilles
(see all)