A small business located in Arizona had been operating for a few years without so much as a single theft attempt, but one day, a break-in occurred and thousands of dollars of equipment was stolen. 
Unfortunately, break-ins and theft are all too common in the business world. The owners of this particular business were devastated, not only by the loss of their equipment but also by the damage done to their building and the emotional toll it took on them. They knew they needed to take action to protect their business from future break-ins.
Taking Action
After the break-in, the business owners contacted Accel Communications, a security company that specialized in providing a range of security systems. They discussed their options and decided to invest in access control, 24/7 video monitoring, and glass break protection. Accel Communications conducted a thorough assessment of the business and recommended a customized security solution to meet their specific needs. They explained the benefits of each system and how they would work together to provide the highest level of protection for the business.
The business owners were impressed with the level of service and expertise provided by Accel Communications and decided to go ahead with the installation. The security system was installed quickly and efficiently, and the business was able to continue operating without interruption. The owners were trained on how to use the systems and Accel Communications provided 24/7 customer support to address any questions or concerns they may have.
With the new security systems in place, the business owners felt a sense of relief and peace of mind knowing that their business was protected. The video surveillance cameras provided live footage, allowing them to monitor the premises remotely, and the access control system ensured that only authorized personnel could enter the building. The glass break detection and door sensors provided an added layer of protection, alerting the business owners to any potential break-ins.
Loss Prevented
Months passed, and the business continued to operate without incident. But one night, an attempted break-in occurred. The glass break protection system was triggered, alerting Accel Communications and the authorities were notified immediately. The would-be thieves were apprehended and the business was saved from another break-in and loss.
The business owners were grateful for the security systems that had been installed. They knew that without them, the attempted break-in could have resulted in another devastating loss, adding to the already staggering statistics of losses due to theft. Thanks to Accel Communications, the business was able to continue operating without fear of break-ins and the owners could focus on growing their business. 
They also felt more comfortable leaving their business unattended, knowing that the security systems are in place, and they can rely on the 24/7 monitoring to ensure their business is safe and secure at all times. Investing in security systems was the best decision they have made for the well-being of their business and peace of mind.
Protect Your Assets
Don't wait for a break-in to happen, protect your business now with Accel Communications. Contact us today to schedule your free security assessment and learn how we can customize a solution to meet your specific needs. 
With our state-of-the-art access control, video monitoring, 24/7 monitoring, and glass break protection, you can rest easy knowing that your business is safe and secure at all times. Call us now at (623) 526-7217 or visit our website to learn more.
ABOUT Accel Communications, Inc.
Accel Communications has operated in the Greater Arizona area since 1990 as a full-service security alarm company that sells, installs, monitors, and services fire and security systems. They are the leader in Honeywell Fire, Brivo Web-Based Access Control, Eagle Eye and Flexwatch CCTV camera systems, and DMP Security.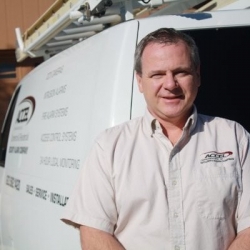 Latest posts by Evan Gavrilles
(see all)